Additive Manufacturing and Rapid Prototyping
Product Announcement from ANSYS SpaceClaim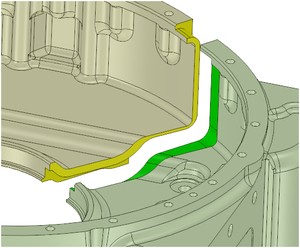 When making a prototype, rarely is the CAD design ready for 3D printing. In the past, many model shops had to wrestle with complicated CAD systems or make the edits right on the mesh. Neither is an ideal solution. SpaceClaim provides a thorough suite of tools to get geometry ready for additive manufacturing.
Features
Shell, thicken, and fill in voids. Start with surfaces or solids. SpaceClaim makes it easy to convert back and forth.
Scale models to their ideal size, then adjust wall thicknesses.
Split large parts into multiple pieces, adding lips as well as mortise and tenon joints as necessary.
Repair and solidify surface geometry, even if it doesn't form a watertight boundary.
Tessellate at exactly the right resolution for your hardware.
Import and improve SketchUp and STL data.
Advantages
Waste less time getting CAD ready for printing.
Fix models before they enter the STL domain
Work with any CAD data in one simple system
---