SpaceClaim 2012+
Product Announcement from ANSYS SpaceClaim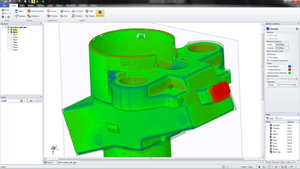 These new capabilities have revolutionized modern mechanical design by providing an easy-to-use and affordable way for engineers and product teams to create, modify, repair, and enhance 3D CAD geometry, without compromising existing processes and methods. SpaceClaim users can leverage existing 2D and 3D designs, including customer and supplier models, analysis and simulation results, mesh and STL data, and surface models, along with PMI and tolerance data, in all their work.

SpaceClaim adds value to existing CAD and PLM infrastructure while removing the waste and rework caused by incompatible file formats. In stark contrast to overpriced and inefficient history-based solid modelers, SpaceClaim works with foreign CAD data as easily as it does its own. It directly opens and edits all leading 2D and 3D CAD file formats as well as neutral file formats, such as JT (with PMI), STEP, and 3D PDF.

SpaceClaim Engineer 2012+ enables small and large manufacturers competing in a global market to get parts out the door faster, finish projects on budget and ahead of schedule, and win more business. SpaceClaim makes it easy for companies specializing in CNC machining, tool and fixture design, injection molding, sheet metal, and production automation to communicate more efficiently with their customers, focus on value-added work, and increase production rates.

Play SpaceClaim 2012+ Video
---