Ferrography Made Easy With The FerroCheck 2000
Featured Product from AMETEK Spectro Scientific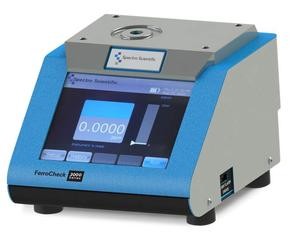 The FerroCheck portable magnetometer from Spectro Scientific provides accuracy and convenience in measurement of total ferrous wear particulates in lubricating fluids. FerroCheck enables users to perform accurate measurements of ferrous wear particles, both in the field, and in the lab where it can be used to analyze gearbox, transmission and other fluids in fleet and industrial maintenance applications.
FerroCheck works by sensing disruption of a magnetic field that is generated due to the presence of ferrous debris, specifically iron, in the oil. Operation involves simply drawing the sample, placing it in the instrument and using the touchscreen to complete the analysis and view the results. Non-lab personnel can operate the FerroCheck with no solvents or sample preparation required. The lightweight unit weighs less than five pounds, is compact and battery-operated for fast, 30-second testing of small samples.
Learn more about product specs, features and benefits.
See just how fast and easy it is to run a machinery oil analysis with our FerroCheck 2000