Ask the Experts: Measuring Oil Viscosity
Featured Product from AMETEK Spectro Scientific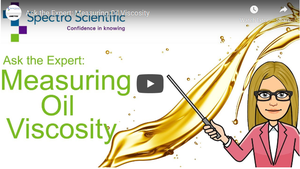 There are several ways to monitor viscosity including Kinematic Viscometers (u-tubes) per ASTM D445, Ametek Spectro Scientific's MiniVisc 3000 per ASTM D8092, Visgages, Rheometers and Rotational Viscometers. Typically, ASTM D445 methods are run in a laboratory setting due to the glass capillary tubes and large constant temperature baths which are difficult to maintain in the field. Spectro's MiniVisc 3000 is able to quickly perform kinematic viscosity with only a few drops of oil and the results are reported in centistokes per ASTM D8092. The small footprint and robust design allows for easy transport of the unit to virtually anywhere in the plant.
Read "Ask the Expert: Measuring Oil Viscosity" to learn more.
Learn about the MiniVisc 3000.
If you have any questions regarding monitoring the viscosity of your oil, please contact Ametek Spectro Scientific so we can work with you to develop a solution that is right for you.