Ask the Experts: Water Concentration in Oil
Featured Product from AMETEK Spectro Scientific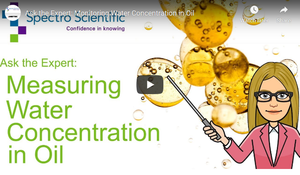 Routinely monitoring water concentration in oil is an important part of any oil condition monitoring program. Water can enter the oil as a result of environmental conditions, condensation from cooler areas of the equipment, and/or compromised seal integrity. AMETEK Spectro Scientific's FluidScan would be a useful tool to use on-site to monitor moisture ppm values to ensure the effectiveness of the moisture removal technique.
Read "Ask the Experts: Measuring Water Concentration in Oil" to learn more.
Learn more about FluidScan.
If you have any questions regarding monitoring moisture in your oil, please contact AMETEK Spectro Scientific so we can work with you to develop a solution that is right for you.