Handheld Infrared Oil Analyzer
Product Announcement from Spectro Scientific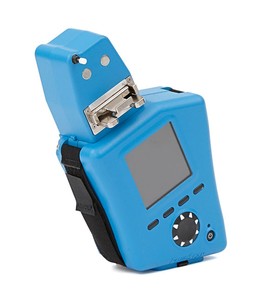 Handheld Infrared Oil Analyzer
The FluidScan® Q1100 is a handheld Infrared Oil Analyzer that provides direct measurement of lubricant condition. It helps avoid lubricant mix-up, and determines when in-service oil is no longer fit for use because of liquid contamination or degradation.The device is ideal for Machinery Condition Monitoring of in-service machinery oil and for extending oil change intervals in engines and back-up generators.
The portable Q1100, when used in conjunction with OilView software, enables route based oil analysis, which integrates well with other widely used predictive maintenance technologies such as vibration and thermography. The Q1100 plays an important role in predictive maintenance and Machinery Health™ management by measuring water, total acid number (TAN), oil oxidation, glycol, total base number (TBN) and other parameters. In addition, the unit's patented flip-top design speeds test preparation and cleanup.
The route-based capability of the FluidScan® Q1100's operation allows the device to virtually eliminate mislabeled samples and long wait times for laboratory analysis. Furthermore, results highly correlate to TAN and TBN laboratory tests conducted with ASTM D664 and D4739 titration methods and water tests with the ASTM D6304 Karl Fischer Titration Method.
Benefits
Speeds test preparation, analysis and cleanup

One drop of oil
One minute test time
No solvents to clean

Simplifies workflow with route-based oil analysis

Generates oil routes for walk around machine condition analysis using AMS Machinery Health™ Manager OilView™ software

Ensures data integrity with seamless upload of data
Achieves highly repeatable and reproducible results

Equivalent to lab-based methodologies
High correlation to ASTM D664 and D4739 titration methods

Eliminates mislabeled samples and long response times from the lab
Mineral and synthetic oils are used in machinery components such as:
Gear boxes
Compressors
Hydraulic systems
Turbines
Transmissions
Diesel engines
Backup generators
The FluidScan® Q1100 can also be ordered in a combination kits with the SpectroVisc Q3000 portable kinematic viscometer.
---