MicroLab® 30 Automated Lubricant Analysis System
Featured Product from AMETEK Spectro Scientific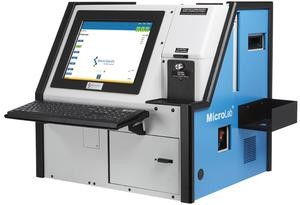 The MicroLab 30 replaces the TruckCheck and is a fully automated oil analyzer that provides diagnostic analysis of engine, generator, power steering, and transmission fluids.
The MicroLab is used in virtually every industry that operates equipment powered by engines including:
Automotive

Trucking

Energy

Mining

Heavy Equipment

Government (Military, Municipal)
The MicroLab, originally developed by On-Site Analysis, has an embedded expert system which translates all of the analytical data into maintenance actions specific to your equipment. The artificial intelligence of the system is built from over 20 years of industry knowledge and more than 10,000 rules statements to generate the diagnostic statements that are specific to each application, the type of equipment and the type of oil.