On-Site Oil Analysis for Industrial Machinery
Featured Product from AMETEK Spectro Scientific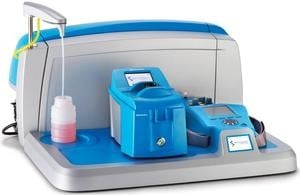 NEXT GENERATION ON-SITE OIL ANALYSIS SYSTEM FOR INDUSTRIAL MACHINERY
Oil analysis provides early indications of equipment wear mechanisms and identifies the root causes of corrosion. On-site oil analysis eliminates the wait associated with sending samples off-site and enables immediate decision making.
The MiniLab 53 delivers comprehensive on-site oil analysis, providing immediate actionable results, saving time and reducing costs. The MiniLab 53 answers the questions:
Is it the right oil?
Is the oil clean?
Is it dry?
Is it fit for use?
And most importantly – Is the machine in good condition?
The MiniLab 53 seamlessly integrates with the Machinery Health Manager Oilview software module. Samples, Batches, Routes or Sample Lists are created in Oilview and downloaded to the MiniLab 53. Once measurements are made, the data is automatically transferred to the user database. Highlights of this system include:
Easy to interpret results
Generates sample and trend reports automatically
Color coded alarm limits prompt maintenance actions
Learn more about features & benefits and download the datasheet.