Spiralock Thread Milling Cutters
Product Announcement from Stanley Engineered Fastening - Spiralock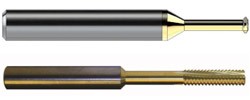 Tapping may be the most common method for putting threads into a hole, but it is not always the best method. Difficult to cut materials, small hole sizes, or threading close to the bottom of a blind hole can push the limits of tap capabilities. An alternative way to create threads and overcome these hurdles is through the use of a thread milling cutter. Spiralock all-carbide thread milling cutters can be made to suit specific customer applications by adjusting the cutter diameter, neck length, and number of threads.
Advantages of Thread Milling
Ability to adjust amount of material being removed by changing depth of cut
Continuous spindle rotation - no need to stop and reverse the spindle when coming out of the hole
Easy machining of difficult materials that produces short, controllable chips
One cutter can produce varying diameters with a common thread pitch
One tool for both right and left-hand threads, as well as through or blind holes
Partial thread removal at start of thread for cleaner assembly
Full bottom threading with precise thread depth control
Less cutting pressure for thin-walled workpieces
Better thread surface finish quality and lower spindle torque
Tool breakage does not necessarily result in workpiece rejection
How Thread Milling Works
In thread milling, the workpiece remains stationary while the thread mill rotates at high speed and moves along a helical path. The tool is moved into position above the hole and then lowered into the hole before beginning the cut. The tool then moves out radially to touch the wall of the workpiece and begins its helical climb back out of the hole, controlled by a CNC program. Chip load and wear on the tool can be controlled by making several passes to generate the full thread profile. Thread milling speeds and feeds are dependent upon material tensile strength, hardness and elongation characteristics. Spiralock can assist customers in choosing a thread mill and recommending speeds, feeds, and number of passes.
---