Taps
Product Announcement from Stanley Engineered Fastening - Spiralock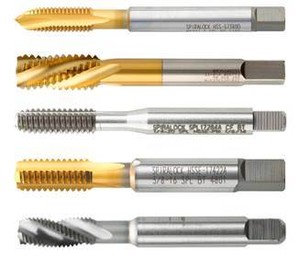 Multi-Purpose: Designed for a wide variety of low-hardness materials that generate long chips. The spiral point pushes chips ahead of the tap in a through hole, while the spiral flute design provides good chip removal from a blind hole. Necked blanks allow better access for lubrication. These taps can be used for hand tapping.
High speed steel
TiN coating
Replaces General Purpose taps; can be used for hand tapping
Plug chamfer uses spiral point design
Bottom chamfer uses a spiral flute design (sizes larger than #3 or M2.5)
T10 Style Tap: Specialized geometry for short-chipping materials such as cast iron and hardened alloy steels. The straight flutes do not provide chip transport, so these taps should not be used on deep blind holes unless tap is extracted mid-way to evacuate chips. TiN coating adds durability and lubricity. The T-10 tap range is intended for use on CNC machining centers.
High speed steel
TiN coating
Minimal contact with workpiece
Available with plug or bottom chamfer
Cold Forming: Cold forming taps produce a thread by deforming material instead of removing it. The starting minor diameter is larger and must be held to a tighter tolerance than with standard taps to ensure the threads fill out properly. Forming taps are suitable for all ductile materials with an elongation value above 10%, such as aluminum, brass, copper, and mild steels. Lubrication with cutting oil is preferred.
Powdered metallurgy grade of high speed steel
Material flows without generating chips and makes threads stronger
Lower risk of breakage, particularly in small diameters
Plug and bottom chamfer
High Performance: An innovative line of cutting taps with cutting geometry tailored for cutting threads in traditionally difficult materials, including high nickel alloys and alloys of titanium. Every aspect of the tool is designed to provide good chip flow and to keep cutting edges sharp. Use of cutting oil for lubrication is essential.
Specially adjusted geometry reduces friction between the tool and workpiece
Intended for abrasive and high tensile strength materials
Powdered metallurgy grade of high speed steel
Dual layer PVD coating
Spiral point with plug chamfer, or spiral flute with bottom chamfer (sizes larger than #3 or M2.5)
---