Palletizing Robot with a Proven Track Record
Featured Product from Spiroflow Systems, Inc.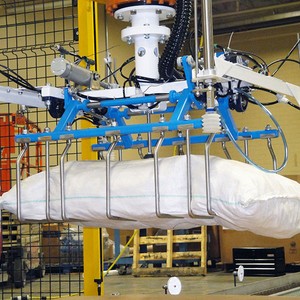 There are many advantages to robotic palletizers including flexibility and reliability. Additionally, processors realize that there is a significant reduction in the cost of ownership of palletizing robots and robotic palletizing systems when compared to convention layer palletizers. No chains and air cylinders need to be adjusted or replaced on an annual basis, which reduces down due to routine maintenance. Today's palletizing robots have proven records of accomplishment of over 62,000 hours mean time between failure.
Spiroflow provides complete, automatic, robotic palletizing solutions integrating conveyors, slip sheet feeding, tier sheet feeding, pallet feeders through to guided vehicles.
Features:
Utilize the Latest in Robotic Safety Technology
Latest PLC Technology with User-Friendly HMI
Wide Variety of Applications