Easily Break Up Solids With Bulk Bag Conditioners
Featured Product from Spiroflow Systems, Inc.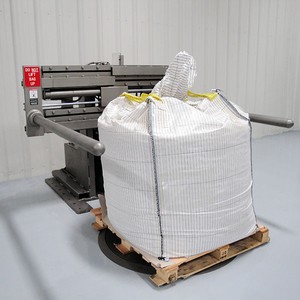 Depending on your material it may require only two or three 'squeezes' to do the job. Simply move the bulk bag between the horizontal poles (with a forklift, hoist or automatically using motorized conveyors) and actuate the hydraulic drive mechanism to quickly and efficiently break up the solid ingredient. Due to its small footprint, our bag conditioner can be located conveniently next to the area where bulk bags are emptied or near incoming storage minimizing the use of valuable floor space.
The bag conditioner can be configured to meet your operational needs with a fixed or movable mast and can be manually operated or integrated into an automated system. Additionally, it can be integrated within the support framework of a bulk bag unloader.
FEATURES
Squeezes the Bulk Bag Easily
Small Footprint
Moveable Automated Mast
Manual or Automated Operation
Integration into a Bulk Bag Unl

Play Easily Break Up Solids With Bulk Bag Conditioners Video