Adapt Your Production Line for COVID-19 & Beyond
Service Detail from Spiroflow Systems, Inc.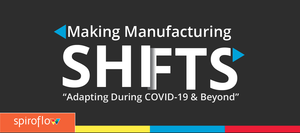 Please contact Spiroflow today to learn how our services and equipment can help your site adapt quickly to and beyond COVID-19.
Our mobile, flexible equipment allows you to make changes quickly to your production line and reuse for process improvement for years to come. Ask about our "plug and play" equipment with built-in control panels.
In talking with Spiroflow customers during coronavirus events, we have identified 4 common challenges that require operational changes on the site floor, outlined in the chart below.
| | |
| --- | --- |
| Shift | Operational Adaptation |
| 1- Stay-at-home economy/changes in product demand | 1 – Modify production line to process a different product (eg. distilleries now producing hand sanitizer) |
| 2 – 24/7 increased production | 2 – Increase capacity of existing production line via equipment upgrades (eg. upgrade conveyor for higher throughput) |
| 3 – Adherence to social distancing protocols | 3 – Remote site management via equipment monitoring software and IIoT technology |
| 4 – Commercial to household product demand | 4 – Modification of packaging lines for small packaging capabilities |