Bulk Bag Fillers Fill Up To 4,400 lbs.
Featured Product from Spiroflow Systems, Inc.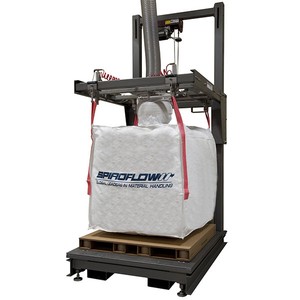 How it Works
Our C Series bulk bag fillers are simple and easy to operate. The basic sequence of operation is as follows:
Place the bag loops of empty bulk bag over the support arms or bag support hooks.
Attach the bag spout or liner over the inflatable neck seal.
Adjust the height of the bag support arms (if selected).
Inflate the neck seal to secure the bag spout or liner.
Inflate the bag or liner.
Commence filling by weight or volume.
Apply vibration (if required).
When the bag is filled to its target weight or volume, deflate the neck seal and tie the bag spout or liner closed.
Engage the automatic loop release (if selected).
Remove the filled bulk bag by forklift, pallet jack or roller conveyor (depending on your application).
BenefitsWide Range of Applications
Spirofil bulk bag fillers offer the widest range of applications and are used extensively across an equally wide range of industries including food, pharmaceuticals, chemicals, plastics, building, and construction.
Versatility
Many standard operating features are included in our bulk bag weigh fillers, enabling the processor to begin immediate production without the need for extra equipment. In addition to the many built-in features, a full range of options is provided, allowing many other operations to be performed from the same machine.

Play Bulk Bag Fillers Fill Up To 4,400 lbs. Video