Economic Alternative For Low Volume Bag Filling
Featured Product from Spiroflow Systems, Inc.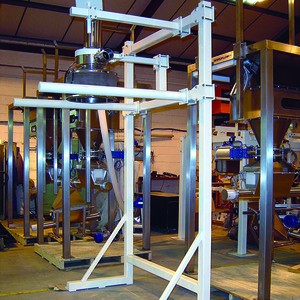 Our Base Model Simple Frame Bulk Bag Fillers are of particular interest to companies using bulk bags to store and/or transfer raw materials, semi-processed or finished products. This economical bulk bag filling choice should be considered when:
Flow control is handled by a feeder, conveyor or other means of delivery.
An operator continuously monitors the fill progress or material delivery operates on a timer or is transferring pre-weighed batches.
No weights and measures guarantees are required.
Only a few bulk bags are to be filled per day.
The product deaerates well and therefore doesn't require compaction. Alternatively, filling needs are so low that the bags can be left to hang until stable. Unstable bags containing aerated material are a safety hazard as they can fall over.
Our Spirofil Base Model Simple Frame Bulk Bag Fillers are robust and are constructed from Steel-It polyurethane coated carbon/mild steel or stainless steel as the environment dictates. Filled bulk bags can be removed by forklift or pallet truck.
The inflatable neck seal ensures that dust doesn't escape into the atmosphere. The filling head contains a dust filter to remove material carried away in the stream of displaced air. Filtration is unnecessary for dust-free granular materials such as certain plastics.
Spiroflow only offers their Spirofil Simple Frame Bulk Bag Fillers for applications where we are confident of their suitability. Learn more about Spiroflow's selection of bulk bag fillers.

Play Economic Alternative For Low Volume Bag Filling Video