Watch: #1 Bulk Bag Filler In Action
Featured Product from Spiroflow Systems, Inc.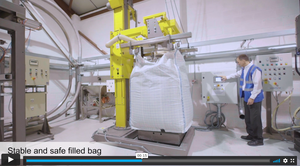 The Spiroflow Cone Table Elite (CTE) bulk bag filler is named for Spiroflow's patented cone table densification system - and is the only cone table filling machine on the market. This unique technology vibrates product directly into the bag, densifying material in the bag, increasing weight per filled bag, increasing bag stability, and bulk bag filling throughput (vs. traditional through pallet filling methods).
Fill Accurately for Less Giveaway

Fill Fuller, Fewer Bags

Ship Fewer Cotainers

Safely Stack Higher

Play Watch: #1 Bulk Bag Filler In Action Video