Watch: Hygienic Conveying & Bulk Bagging
Featured Product from Spiroflow Systems, Inc.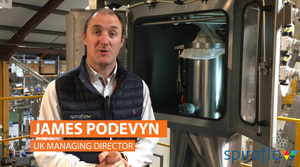 Join Spiroflow UK Managing Director James Podevyn for a walk-through of design features for hygienic requirements across Spiroflow equipment. James will take us through design features on a Spiroflow conveyor, bulk bag unloader and more. Ideal for food and pharmaceutical industry applications, Spiroflow equipment's hygienic design includes quick-clean and dust minimizing features.

Play Watch: Hygienic Conveying & Bulk Bagging Video