SPIROL has 1,000+ Hour Corrosion Resistant Coating
Featured Product from SPIROL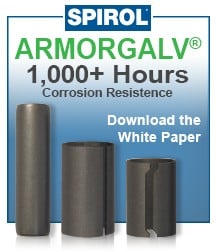 SPIROL is pleased to introduce ArmorGalv®, a Thermal Zinc Diffusion coating, as a standard finish option for their engineered fasteners. This uniform deposition coating is poised to revolutionize the industrial fastener market with 1,000+ hours of corrosion resistance, no risk of hydrogen embrittlement, and no insignificant surfaces! SPIROL is initially rolling out ArmorGalv® for their roll-formed Tubular Product lines that include Dowel Bushings, Spring Dowels, Spacers and Compression Limiters. They will offer this coating for their other products lines over the course of the next year.

SPIROL offers an array of protective coatings for their product lines to suite various application requirements, and has recently invested in the technology to bring ArmorGalv® to the market as an in-house process. ArmorGalv® not only provides a, high quality, cost effective method for maximizing corrosion protection, but it is also recognized by the Environmental Protection Agency as approaching zero emissions and has received recognition and awards for its contribution to pollution prevention.
Download SPIROL's White Paper, Features and Benefits of ArmorGalv® Thermal Zinc Diffusion, to learn more about this innovative coating and what makes it superior to traditional coatings and platings.