Critical Components for the Medical Industry
Featured Product from SPIROL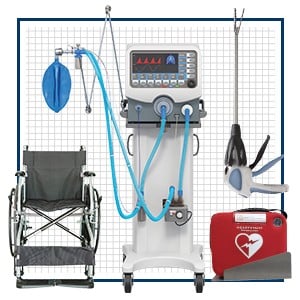 SPIROL Engineered Fasteners and Precision Shims have been used in a wide range of surgical, diagnostic, and orthopedic medical devices for decades. We understand the intricacies of the medical industry and have the technology, expertise, and quality to provide superior products and services. Our Medical Equipment Flyer illustrates many of the applications that use our products.
SPIROL is a technical resource that provides high quality components that improve the quality of your assembly, extend the life of your products and reduce your manufacturing costs. We are the leading global manufacturer of engineered fasteners, installation machines, and parts feeding equipment producing over two billion components annually. In addition to high quality products, SPIROL has Application Engineers throughout the world to assist you in your designs, supported by state-of-the-art manufacturing centers and global stocking facilities to simplify the logistics of delivering your product.
View the SPIROL Corporate Brochure or a specific Product Catalog from our online library.
For a brief overview about a specific product or to request a quotation, please select the product type below:
Coiled Spring Pins
Compression Limiters
Disc Springs
Dowel Bushings, Spring Alignment Dowels, and Ground Hollow Dowels
Inserts for Plastics
Laminated Shims
Precision Shims and High-Wear Components
Slotted Spring Pins
Metal Spacers
Solid Pins
Twist-Lok™ Pins
Installation Systems