Insert Installation Technology
Featured Product from SPIROL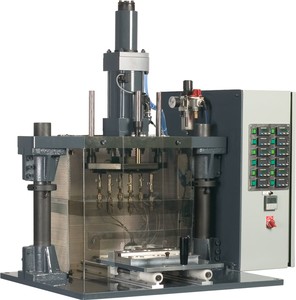 Flexible, versatile solutions to post-molded insert installation into thermo-plastic and thermo-set plastics.
Our machines are the ideal foundation for stand-alone systems and enhanced assembly systems provided by SPIROL.
Optional equipment and features include:
• Pick and place systems
• Rotary and linear part indexing
• Part and insert presence sensing
• Torque monitoring for self-tapping insert installation
Our standardized, time-tested, modular designs are robust, reliable and easily adjustable — allowing simple customization to meet the specific needs of your application.
More than 80% of the components in the machines we design are pre-tested and production-proven standard items. This translates into faster delivery, greater reliability, and lowest cost for equipment of comparable quality.
We specialize in custom application-specific part holding devices.
Fixturing – holding your components accurately and firmly during insertion – is a critical element to the performance of your assembly equipment.
Here are our basic models:
Heat Insert Drivers
• Model PH Platen Style, Multi-Tip Heat Insertion Machines.
• Model HA Vertical, Semi-Automatic Heat Insert Drivers.
• Model HP Vertical, Pneumatically Operated Heat Insert Drivers.
• Model HM Vertical Manual Heat Insert Drivers.
Self-Tapping Insert Drivers
• Model TA Automatic Self-Tapping Insert Drivers


Streaming videos
Model PH
Model HA
Model HP
Model HM
Model TA

Automatic Insert Drivers are completely self-contained. The insert is oriented in a vibratory feeder and fed to a shuttle mechanism that positions the insert directly underneath the insertion quill. The shuttle is mounted on a retracting mechanism that positions the exit bushing as close to the part as possible for insertion yet out of the way for loading and unloading.
Semi-Automatic Insert Drivers require that the insert be manually loaded into the part. The pneumatic action of the machine, coupled with an adjustable timer, completes the installation of the insert when actuated.
Manual Insert Drivers require that the insert be manually loaded into the part or the machine. The operator then completes the installation by pulling the arbor press lever.
To order a free SPIROL Automation CD-ROM that demonstrates the insert drivers in operation, presents their versatility and how cost-effective modifications are provided for your application, click here.