New SPIROL Video of Model HM Manual Insert Driver
Featured Product from SPIROL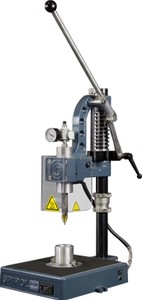 As much as 75% of an Insert's performance is the direct result of how well it was
installed. Therefore, in order to maximize performance, all of the factors that
impact installation must be carefully controlled. SPIROL's Model HM Manual
Insert Driver has been designed to eliminate the dependency on the operator
to control these factors. The result is nearly perfect flow of the plastic for optimal
retention and performance.
Designed to install virtually any type of Heat/Ultrasonic Style Insert.
Standard Features:
Internal air-spring installation system for infinitely adjustable and consistent force
Easily interchangeable heat tips to accommodate various Insert sizes and applications
Easily adjustable, digital temperature controller