SPIROL Announces Enhancements to the Model CL
Featured Product from SPIROL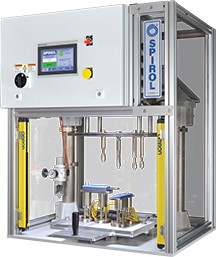 SPIROL is pleased to announce the release of several design enhancements to our Model CL Compression Limiter Installation Machine. These enhancements improve operator interaction, reduce changeover time and incorporate additional error-proofing techniques to our machine design. The Model CL is specifically designed to post-mold install Compression Limiters into plastic assemblies. Available in two models, the CL1000 (1,000 lbs. maximum installation force) and the CL2000 (2,000 lbs. maximum installation force), the Model CL Compression Limiter Installation Machine can install a single Compression Limiter or multiple Compression Limiters simultaneously into a variety of polymers, thermoplastic and thermoset. The Compression Limiters may vary in size, configuration and installation elevations.
The Model CL Compression Limiter Installation Machine comes standard with full perimeter guarding, safety light curtain and hands clear activation to keep operators safe. The use of sensors to verify proper installation of the Compression Limiter(s) ensures a quality finished product. The touchscreen operator interface makes the Model CL easy to customize and operate. Conversion to other languages is easily executed to support international use. The new enhanced design incorporates:
Safety interlocked doors in the full perimeter guard to allow quick, easy access to the machine work area

Compression Limiter presence confirmation prior to machine cycle start

Automatic fixture recognition to ensure the proper machine program is enabled with each fixture change

Easy access quick disconnects of all fixture sensors and pneumatic devices

Powered fixture slide: host component loading and fastener positioning is completed close to the Operator. Upon machine activation, the fixture automatically slides into the installation position

Part Marking option to mark the part upon successful Compression Limiter installation

HMI Touchscreen which can be programmed to enable a password reset after any machine fault
The Model CL can be used as a stand-alone machine, or can be integrated into a larger, fully automated cell. SPIROL's Compression Limiter Installation Machines are versatile assembly solutions that are designed to be easily retooled to accommodate a myriad of part configurations.
In sync with SPIROL's standardization philosophy, the design incorporates standardized machine components to improve reliability, reduce price and shorten lead time.