SPIROL Expands Fastener Installation Machine Line
Featured Product from SPIROL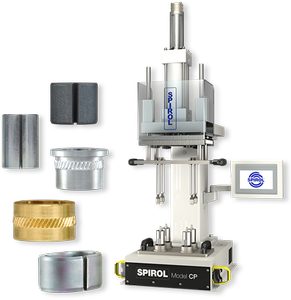 SPIROL is pleased to announce the expansion of their robust Fastener Installation Equipment line by introducing the new Model CP Pneumatic Compression Limiter Installation Machine. The Model CP can install one Compression Limiter into one assembly, or simultaneously install multiple Limiters into several different assemblies at the same - or different - heights.
The Model CP Pneumatic Compression Limiter Installation Machine can be easily adapted to a variety of applications through the use of quick-change tooling that enables the operator to reconfigure the machine to the desired platform within a matter of seconds.
Easy to use and built to last, while the base machine offers reliable installation of Compression Limiters into plastic assemblies, the Model CP can be upgraded for heightened inspection and error-proofing with the addition of optional enhancements including: HMI (Human Machine Interface), vision sensing, fixture identification, force monitoring, machine table and more!
This new offering complements SPIROL's Model CM Manual Compression Limiter Installation and the larger Model CL and extra-large Model CLX Installation Machines.
# # #
About SPIROL
SPIROL is a leading expert in fastening, joining and assembly. We are a technical resource that provides high quality components that improve the quality of your assembly, extend the life of your products and reduce your total manufacturing costs.
We are a global manufacturer of engineered fasteners, installation machines, and parts feeding equipment producing over two billion components annually. In addition to high quality products, SPIROL has Application Engineers throughout the world to assist you in your designs, supported by state-of-the-art manufacturing centers and global stocking facilities to simplify the logistics of delivering your product.
Contact SPIROL early in the design stage of your next project for complimentary Application Engineering Assistance!