SPIROL Expands Split Seam Compression Limiter Line
Featured Product from SPIROL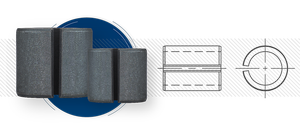 SPIROL has expanded the CL220 Compression Limiter offering by adding additional diameter and length combinations to accommodate a variety of application requirements.
The CL220 Compression Limiter's split-seam, flexible diameter accommodates wide hole tolerances and the gap is designed such that the parts will not interlock in the free state. The CL220 Compression Limiter is intended to be installed into the plastic component after the molding process, and it is spring force that provides self-retention within the hole. Once installed, the CL220 provides a minimum clearance of 1mm around the bolt diameter to compensate for misalignment.
Produced from high carbon steel, the CL220 is finished with a protective coating of ArmorGalv®, a zinc alloy thermal diffusion coating complimented with two sealers that provides 1000+ hours of salt spray protection for highly corrosive applications such as automotive, marine, mining and industrial manufacturing. Additional benefits of ArmorGalv® include no insignificant surfaces as the entire inner diameter (ID) of the Limiter receives full coating and protection.
Rated for use up to ISO Class 8.8 bolts, the CL220 Compression Limiter offers the widest range of standard diameter and length combinations to accommodate a variety of application requirements.
# # #
About SPIROL
SPIROL is a leading expert in fastening, joining and assembly. We are a technical resource that provides high quality components that improve the quality of your assembly, extend the life of your products and reduce your total manufacturing costs.
We are a global manufacturer of engineered fasteners, installation machines, and parts feeding equipment producing over two billion components annually. In addition to high quality products, SPIROL has Application Engineers throughout the world to assist you in your designs, supported by state-of-the-art manufacturing centers and global stocking facilities to simplify the logistics of delivering your product.
Contact SPIROL early in the design stage of your next project for complimentary Application Engineering Assistance!