SPIROL Publishes Precision Metal Shims Brochure
Featured Product from SPIROL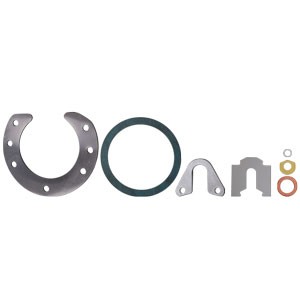 SPIROL is pleased to announce the release of their new Precision Metal Shims brochure that details the breadth of their product line, value-added services and quality certifications. SPIROL's Shim product line includes: Specialty Shims, Thrust Washers, Laminated and Edge-Bonded Shims custom-made to customer specifications.
SPIROL specializes in quick turnaround delivery of high quality, Precision Engineered Shims ranging from simple OD/ID shapes to complex geometries.
Our strength is cost-effective production of short run stampings. We can deliver product in thicknesses from .002" (0.05mm) up to .250" (6mm) with quantities ranging from one piece to thousands. To meet our customer needs of process control, minimal tool investment, long-term part repeatability, prototypes, and low unit cost, we utilize a variety of stamping methods.
Manufacturing processes and value-added services are performed in-house under the direct influence of SPIROL's quality system registered to ISO 9001, AS 9100 and ISO/TS 16949. SPIROL controls quality, lead time and cost by performing the following secondary operations in-house: heat treating, grinding & lapping, machining, high speed polishing, deburring, passivation, part marking, edge-bonding, kitting and specialty packaging.
This comprehensive Precision Metal Shim brochure illustrates SPIROL's differentiation of excelling at:
• Thin metal Shims produced with little or no tool cost
• Heat treated and close tolerance parts
• Quality certifications and documentation that meet the most critical requirements
• Delivery performance that exceeds customers' expectations
• Technical know-how in the design and application of the products they produce
With over 70 years of experience dedicated to making Shims, SPIROL's quality and service have made them one of the premier global suppliers of Precision Metal Shims. They can provide product – including prototypes – in quantities ranging from one piece to thousands in thicknesses ranging from .002" (0.05mm) to .250" (6mm).
Visit www.spirolshims.com for more information and to download the Precision Metal Shims Brochure.
Contact SPIROL today for your Precision Shim requirements!