SPIROL Releases New Automatic Pin Inserter Video
Featured Product from SPIROL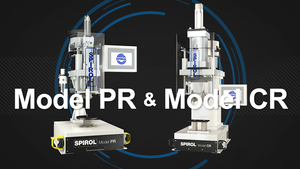 SPIROL is pleased to announce the release of a new video showcasing the features, advantages and benefits of the recently updated Model PR Semi-Automatic Pin Inserter and Model CR Heavy Duty Semi-Automatic Pin Inserter. Both models are designed to install common types of pins including Coiled Spring Pins, Slotted Spring Pins, a variety of Solid Pins, as well as Alignment Dowels and Bushings.
Equipped with a vibratory feeder bowl, both pinning machines automatically deliver the pin to the installation site eliminating the need for the operator to handle the pin throughout the entire installation process. This is particularly helpful with small, hard to handle pins.
The operator interface features a touch screen with easy-to-read controls and interactive operator buttons. This feature provides multilingual conversion capability, real-time machine status, cycle counter and explicit fault indicators.
Operation of the pin installation machines is simple: Load the assembly into the fixture, and then activate the machine using the dual optical touch actuators. The machine's head advances, reliably installing the pin into the assembly - every time. The head then retracts for easy loading and unloading of the part from the fixture.
In addition to the standard features, additional quality and safety features are available for both pinning machines including: Pin presence sensing, force monitoring, vision system, full perimeter guarding, ergo-lift table, and more!
The Model PR has a maximum insertion force of 1.3 kN or 300 lbs. For higher insertion forces, the Model CR Heavy Duty Pin Inserter is available in multiple sizes to accommodate a variety of applications. The Model CR can also be adapted to install several pins at the same time.
SPIROL offers an array of Fastener Installation Equipment for Pins, Alignment Dowels & Bushings, Threaded Inserts and Compression Limiters from manual to fully automatic models. SPIROL's Applications Engineers will review your specific application and assembly objectives, and recommend the optimal solution to meet your needs. All Installation Machines are available with SPIROL's unique Performance Warranty.
# # #
About SPIROL
SPIROL is a leading expert in fastening, joining and assembly. We are a technical resource that provides high quality components that improve the quality of your assembly, extend the life of your products and reduce your total manufacturing costs.
We are a global manufacturer of engineered fasteners, installation machines, and parts feeding equipment producing over two billion components annually. In addition to high quality products, SPIROL has Application Engineers throughout the world to assist you in your designs, supported by state-of-the-art manufacturing centers and global stocking facilities to simplify the logistics of delivering your product.
Contact SPIROL early in the design stage of your next project for complimentary Application Engineering Assistance!