Preconfigured Modular Cabinets
Product Announcement from Stanley Vidmar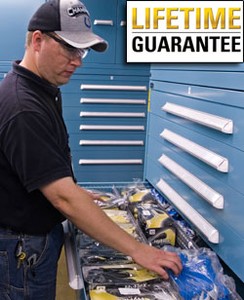 Stanley® Vidmar® preconfigured cabinets are available in dozens of sizes and drawer configurations! Mix and match the cabinets you need to get the job done—the possibilities are endless!
You decide what suits you best with Stanley® Vidmar® custom-configured cabinets! Choose what you want, from housing and drawers to shelving and cabinet doors. Vidmar also offers a long list of accessories!
Heavy-duty casters make Stanley® Vidmar® mobile cabinets easy to move, allowing you to position them wherever you need to work! Mobile cabinets can be custom-built in any configuration you need.
Available with or without doors, Stanley® Vidmar® shelf cabinets are used to store bulk materials. Shelf cabinet doors are equipped with a magnetic catch and are available as solid steel or steel mesh.
Ideal for existing cabinet systems or new installations, Stanley® Vidmar® overhead cabinets provide additional storage space above cabinets. Options include doors, shelves, shelf dividers, and locks.
Stanley® Vidmar® computer cabinets provide the ultimate platform for high-impact computer storage and performance! Computer cabinets are available in a number of convenient, secure configurations.
An efficient way to store hazardous or dangerous materials, Stanley® Vidmar® safety cabinets are designed for flammables, acids/corrosives, and paints/inks. HazMat cabinet colors identify contents as hazardous.
Store up to 400 lbs. in each of your Stanley® Vidmar® drawers! Drawers are available in 15 convenient sizes and your choice of interior compartment setup.
Customize your drawers with our range of accessories designed to ensure the perfect storage solution for any application.
---