Stanley Vidmar Launches Roll-Out Tray Cabinet
Product Announcement from Stanley Vidmar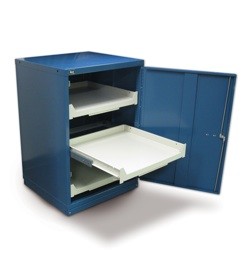 To provide customers with an increased level of convenience, Stanley Vidmar recently unveiled its all-new Roll-Out Tray Cabinet. Ideal for the storage of heavy, bulky items, the Stanley® Vidmar® Roll-Out Tray Cabinet provides full access to all stored items at once plus the ability to fully extend its pullout trays.
The Stanley® Vidmar® Roll-Out Tray Cabinet is a cost-efficient way for customers to easily store and access their largest and heaviest items. Highlights and features include:
Available in all Vidmar cabinet footprints
Tray height can be adjusted to accommodate different item sizes
400 lb. weight capacity per tray
Fully extendable tray
Open tray front for easy removal of items
Integrated tray handle with lock-in mechanism
Lockable door closes flush over trays
Lifetime Guarantee
Stanley Vidmar offers both new and potential customers a free onsite analysis to ensure that all storage needs are being addressed. Interested businesses should visit StanleyVidmar.com/contact or call 800-523-9462.
About Stanley Vidmar
A division of Stanley Black & Decker, Stanley Vidmar offers storage solutions to all industries, with modular space-saving systems that provide quick, safe access to parts, tools, and supplies. A Stanley Vidmar system can maximize valuable floor space while providing an integrated solution for inventory control. Customers can arrange for a free analysis of their storage needs by calling 800-523-9462. Detailed information on Stanley Vidmar products is available at StanleyVidmar.com.
---