Workbench Accessory System
Product Announcement from Stanley Vidmar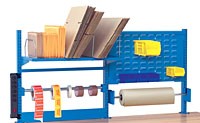 Make any task easier with shelves, lighting, power, overhead cabinets, bin holders, monitor arms, accessory shelves, document holders and more. All components are ergonomically designed to increase productivity and decrease risk of injury.
The system has been designed to cost-effectively meet the needs of a broad variety of jobs. Modular and easily reconfigured, it can easily be adapted or expanded to meet changing needs. It can also be retrofitted to any existing workbench, whether it's from Vidmar or another manufacturer. Many components can be easily adjusted for specific tasks within a workshift.
Benefits
Greater productivity and efficiency
Extensive selection of heights and widths, allowing you to configure your workspace to fit your needs
Reduced strain, increased ergonomic ease ̶ accessories can be chosen and positioned to best suit each user for ultimate ergonomic adaptability
Many accessories can tilt and pivot in a number of positions, easily adjusting to the
most comfortable and useful position
Wide choice of accessories means that whatever the task, an appropriate accessory is available
Light fixtures can be easily positioned at the desired height, depth and angle
Articulating arms mount to uprights, leaving full worksurface available for tasks
Options
Steel shelves, both fixed and variable angle
Overhead task lighting
Tool rails
Power rails
Back stops
Roll holders
Bin box rails
Overhead cabinets
Louvered, pegboard and privacy panels
Marker boards and tack boards
Pivoting monitor arms
Pivoting accessory and equipment shelves
Pivoting document holders
Configuration
Building your ideal workbench accessory system is an easy process. Simply select the frames (starters and adders) that fit your worksurface width, then pick accessories of corresponding widths to mount on the frames. Accessories are easily moved and repositioned as your needs change. System width is limited only by your worksurface length.
Ordering
For more information or a free site analysis, contact us or call 800-523-9462.
---