Workstation | Industrial Work Benches
Product Announcement from Stanley Vidmar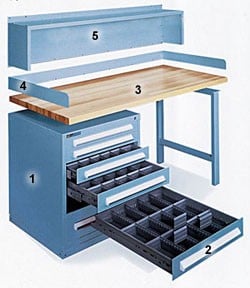 What do you need your workstation to do for you? Custom-configure your Stanley® Vidmar® workstation to the exact setup that will best suit your heavy-duty day-to-day needs! You choose your cabinets, you choose your drawers, you choose your work surfaces, you choose your accessories—and you can always add on to your workstation when expansion becomes necessary.

All cabinets are backed by Stanley Vidmar's lifetime guarantee.
Custom-Build Your Workstation!
1. CABINETS
Stanley® Vidmar® cabinets are the building block of any workstation. Workstation cabinets are available in 30-, 33-, and 59-inch heights; 30- and 22-1/2-inch widths; and a 27-3/4-inch depth. Custom sizes also available.

2. DRAWERS
Workstation drawers are available in 15 convenient sizes (2-1/4 to 13-1/4 high) and can be compartmentalized in any configuration you require. Each of your drawers can hold up to 400 lbs.!

3. WORK SURFACES
This is where the work gets done! Work surfaces are available in a variety of tough materials (below) for a variety of tough jobs. Work surface lengths range from 30 to 120 inches.

4. BACK & END STOPS
Back and end stops are a perfect way to keep small parts from rolling off your work surface.

5. RISER SHELVES & BACK PANELS
Increase your workspace and efficiency with Stanley® Vidmar® riser shelves and back panels.
Work Surfaces
Workstation work surfaces include Hardwood, Shop Top, Plastic, Plastic Radius, Static Dissipative, Static Dissipative with Radius, Stainless Steel, Formed Stainless Steel, Steel Plate, Steel Top, and Stainless Steel with MDF Core Top. Work surfaces available in lengths from 30 to 120 inches.

StaticGard™ Workstations
Stanley Vidmar offers a full line of StaticGard™ workstations designed to create a static-free work environment. StaticGard™ workstations provide static dissipative control as determined by ESD Association Controls, protecting against static damage both at and below your work surface.

Easy Workstation Mobility
All Stanley® Vidmar® workstations include built-in pallet feet that make moving your workstation—even fully loaded—an easy job. Workstation cabinets can be moved from the front or back.
SAMPLE WORKSTATION CONFIGURATIONS
The images below represent a small sampling of Stanley® Vidmar® workstations. Workstations are available in many styles, and can be custom-configured to any specifications you may require. For more information, contact a Storage Sales Engineer today.
---