4-20 mADC Loop Splitter / Isolator
Featured Product from Status Instruments, Inc.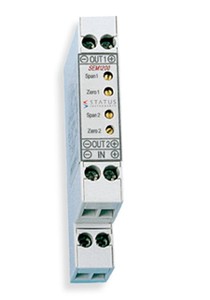 High Accuracy / 0.05%
Small Size (12.5 mm) / High Packing Density
DIN Rail Mount
Loop Splitter
ONE 4 to 20 mADC INPUT SPLIT INTO TWO FULLY ISOLATED 4 to 20 ma OUTPUTS

The SEM1200 is an isolator that provides TWO isolated 4 to 20 ma outputs from a single 4 to 20 ma input. The input and the output loops must each have power supplies. The three power supplies must of course be isolated from each other to maintain isolation. The isolator is housed inside a plastic enclosure, suitable for DIN Rail mounting. Screw terminals are provided for wire connections.
Status Instruments offers a family of very small loop powered DIN Rail mount isolators.