Dual Input DIN Rail Signal Conditioner
Featured Product from Status Instruments, Inc.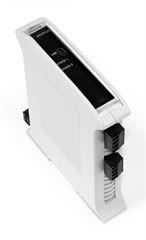 The SEM1750 is a cost effective two input signal conditioner that accepts a bipolar voltage or current signal on each input and isolates to provide two ranged industrial process output signals such as 0 to 20 mA, 4 to 20mA, 0 to 10VDC or 1 to 5VDC.
The SEM1750 is configured using our easy to use configuration software "USB Speed Link". "USB Speed Link" offers the user two levels of configuration, a basic current/voltage signal converter where the device can be set as dual channel or signal splitter. For more advanced applications a configuration menu offers a wide range of user set functions, including process scaling and profiling, math functions, signal damping, sensor linearization and signal preset for diagnostics purposes. If ranges are not specified when ordered then the transmitter will be shipped with the default range of Current 4 to 20mA on both inputs and 4 to 20mA on both outputs.
FEATURES
• DIRECT USB CONFIGURATION OFFERS SYSTEM DIAGNOSTIC TOOLS
• ±50VDC or ±50mA FULL RANGE INPUTS WITH SENSOR SUPPLY
• VOLTAGE OR CURRENT ACTIVE / PASSIVE OUTPUTS
• DUAL INPUTS WITH 5 PORT ISOLATION (3.75 KV)
• UNIVERSAL AC/DC POWER SUPPLY - 20 to 240VDC/VAC 50/60 Hz
• USER SELECTABLE MATH FUNCTIONS ON EACH OUTPUT CHANNEL
• USER LINEARIZATION FUNCTION
• CONFIGURABLE AS AN ACTIVE SIGNAL SPLITTER