SEM1600T Thermocouple Signal Conditioner
Featured Product from Status Instruments, Inc.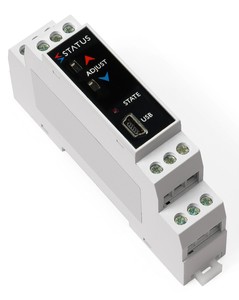 The SEM1600T accepts resistance or mV signals from RTD, Slide Wire or Thermocouple sensors. The flexible design allows the use of any resistive sensor within the range of 10 to 10500 Ω, including Pt100, 500, 1000, Ni or Cu sensors, Slide Wire sensors up to 100K Ω and 13 different thermocouple types. Other sensors characteristics or your own 22 point linearization characteristic (for slide wire, linear resistance or mV) can be downloaded into the product enabling you to adapt it exactly to your application.
The output stage offers either voltage, bipolar voltage or current re-transmission signals. The re-transmission signal can be ranged to a scale anywhere within the input process range. A transmitter power supply is provided on the output meaning the product can accept sink or source mA applications, while the voltage output will drive 2mA into 5K Ω @ 10V.
For ease of use, a high efficiency switch mode power supply is fitted as standard and does not require any adjustment between AC or DC applications. Operating voltages are 10 to 48VDC and 10 to 32VAC. Our USB interface is fitted for quick and easy configuration by simply connecting a standard USB cable between the SEM1600T and your PC. Using our free configuration software, your PC will automatically upload the existing configuration data and guide you through any changes you wish to make. To further help save time, theSEM1600T does not need to be wired to a power supply during the configuration process as it is powered via the USB interface from your PC.