SEM203TH Thermistor Transmitter
Featured Product from Status Instruments, Inc.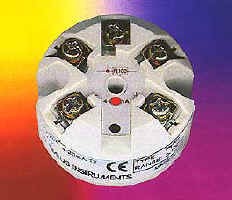 PUSH BUTTON Calibration
Thermistor Sensor Input
In-Head Mounting
Temperature Linear Output
Small Spans 10 °F
Re-Rangeable Without A Computer
The SEM203TH Transmitter connects to a standard thermistor and produces a 4-20 mA signal that is linear with temperature. Two models are available. One accepts a 2252 ohm thermistor, the other a 10K ohm thermistor. The transmitter can be mounted in a junction box for attaching directly to the temperature sensor or for surface mounting to a wall or duct. A digital indicator can be incorporated. An optional DIN rail adaptor is available.
The simple push of a button ranges and calibrates the SEM203TH transmitter. There is no need for jumpers or potentiometer adjustments. The high accuracy, stability, flexibility and low cost of the SEM203TH make it feasible to use a thermistor in many more applications.