TTR200 and TTC200 Temperature Transmitters
Featured Product from Status Instruments, Inc.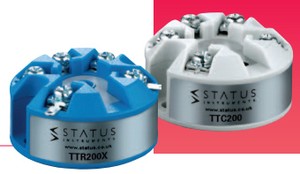 RTD / SLIDE WIRE / OHMS or THERMOCOUPLE / mV INPUTS
CONFIGURATION USING USB PORT POWERED CONFIGURATOR
CUSTOM SENSORS ACCOMMODATED
22 SEGMENT USER LINEARIZATION FOR INPUT
SENSOR OFFSET AND OUTPUT ALIGNMENT
PROGRAMMABLE SENSOR BURNOUT
HIGH LONG TERM STABILITY
INTRINSICALLY SAFE VERSIONS AVAILABLE
The TTR200 & TTC200 are cost effective "smart" in head temperature transmitters that accept RTD/Slide Wire or Thermocouple/mV inputs and converts them to a standard loop powered industrial 4 to 20mA transmission signal over a user programmed range. Two versions are available; standard and ATEX/IECEX approved for hazardous areas.
A more flexible approach has been taken with this design, the linearization correction data is loaded into the transmitter during user configuration as opposed to being stored on the transmitter. This allows the linearization data to be updated any time in the future simply by reconfiguring the device with the latest configuration software. This flexibility also allows for custom sensors to be accommodated. It is also possible to generate your own linearization curve (22 point interpolation) for resistance, slide wire, thermocouple or mV inputs.
PC configuration allows the user to select Input Type, Range, Filter, Units, Linearization, and Burnout Direction without requiring calibration equipment. Configuration is performed quickly by simply connecting our new USB port driven configurator to the TTR200 or TTC200 and using our free software. Additionally the user may read live process data when connected to the PC, this allows for sensor offset, and output alignment calibration, where the user can enter values to match the actual process and therefore reducing system errors.
If required, the desired range can be specified at the time of order, removing the need for user configuration. If the range is not specified then the TTR200 will be shipped set to Pt100 0 to 100°C and the TTC200 will be shipped set to Type K thermocouple 0 to 1000°C.