Universal Input Panel Meter
Featured Product from Status Instruments, Inc.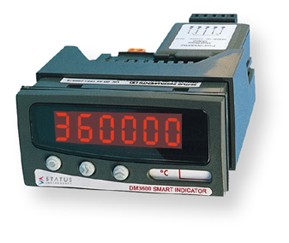 Universal Input
Flow Totalizer Functions
6 Digit Display
Programmable Relay & Current Outputs
RS485 Serial MODBUS comms
IP65 Sealed Front
Internal Power Supply for Loop Exitation
Custom Software For Your Application Option
Programmable Via The Front Panel Or Remote PC
User Non Linear Function For Tank Level Applications
The DM3600 is an intelligent digital panel meter that can accept inputs from a wide variety of sensors. The DM3600 is available in two models. The DM3600U is a universal input panel indicator and the DM3600A is a universal input panel indicator with totalizer functions. Alarm relays and 4 to 20 mA outputs can be added by means of plug in "Pods".
The use of TFML gives the user the ability to customize the DM3600 to his specific requirements. Many standard programs are available from our website. Custom programs can be written quickly and inexpensively.
All functions are programmable from the front panel keys or via the optional RS485 serial port using our M-Config software. The program is easy to use and intuitive having pull-down menus and dialog boxes.
The DM3600A totalizer function enables non-volatile storage of the integrated total to be maintained within the unit, even after loss of power. Output options (4 to 20 mA and Alarm Relays) can be selected to operate on either Process Variable Rate or Total.