Modular Connection System for Machinery
Featured Product from Staubli Corporation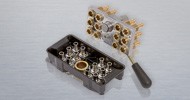 Modern machinery and equipment often requires connections not just for electric power, hydraulics, cooling fluids and pneumatics but frequently also data transfer, fibre optics, sensors and thermocouples. Stäubli's CombiTac range of modular connectors allows all of these connections to be made in one simple operation, saving time and improving circuit integrity.
Stäubli's CombiTac programme has been introduced in response to the increasing requirement for multiple connections on modern machinery and equipment. It combines the versatility of selecting the most suitable fluid, air, data and electrical couplings from their wide range and fitting these onto a single, easy to use, space saving connector plate. There are over 6 million possible configurations.
No risk of wrong or cross connection
Benefits result from speeding up the connection procedure and also eliminating any chance of wrong or cross connection since the connection plates can only be connected in one position. High performance guiding and locking systems ensure safe and secure connections. Dry break connectors bring the added advantage of preventing any loss of fluid on connection or disconnection and also preventing any ingress of containments into the circuits.
The CombiTac range is IP65 rated (IP68 is available on request) and provides a complete and specially tailored solution for each application. The modules can accommodate seven types of quick release fluid or air couplings from 3 to 8mm diameter and numerous electrical contacts, including 4-pole and 2-pole modules from 1 to 8mm diameter with up to 26 contacts per module and a capability up to 600V and 125A. Data transmission by CAT 5 and 6, Ethernet IEEE 802.3, Profibus, Interbus and CANbus; up to 2 contact carriers of 8 poles per module.
Each CombiTac module has been designed to be housed either in a mobile housing for manual connections or as a rackable solution for automatic connection. Stäubli's programme can accommodate every configuration.
Wide ranging applications
Six standard housings can be selected as well as numerous bespoke designs, as appropriate for the type and number of connections included and each specific application.
Applications are wide ranging, wherever a combination of fluid and electrical connections is required, the flexible and adaptable CombiTac system can provide a fast, reliable and safe solution. Stäubli's team of connection specialists are available to give advice on how the advantages of their CombiTac programme can benefit manufacturers in their specific applications.