Quick Couplers/Connectors for Liquid Cooling
Featured Product from Staubli Corporation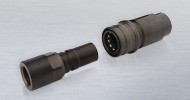 Micro-electronics and wind turbines adopt liquid cooling
The heat being generated by electronic systems is increasing as more high power components are added to circuits within the same or even a reduced space envelope. The heat produced is outstripping the capacity of air cooling systems and a move to liquid cooling techniques is taking place across industry in sectors as diverse as micro-electronics and wind turbines.
Liquids have a much greater capacity to absorb heat than air, but a major concern with using liquids to cool electronics and electrical equipment is ensuring that no spillage of the cooling fluid occurs, especially when connecting or disconnecting to the cooling system for maintenance or replacement. This is the challenge that Stäubli's unique range of connectors is designed to satisfy.
Micro-electronics:
Liquid cooling has been adopted by manufacturers of high power electronic systems used in the defence sector on radar installations and HD imaging systems. A recent innovative example is the development of dual independent, liquid cooled ATR enclosures, using cold wall techniques to cool the adjacent electronics. The connections to the cold wall needed to be able to be disconnected and reconnected easily without any risk of fluid loss.
Stäubli recommended lightweight, flush-faced, non-spill connectors with secure bayonet locking. The flush faced design ensured no air ingress into the system on connection as well as eliminating spillage. The bayonet locking system is quick and easy to connect and is durable and reliable, being designed to withstand high vibrations. The coupling's aluminium construction minimises weight, important for in-flight applications. The connectors that are designed for blind connection will even compensate for a degree of misalignment, making removal and replacement of the electronics racks as easy as on a traditional air cooled system.
The thermal performance of the new enclosure was quite exceptional giving user friendly, high cooling power more than 25% better than other solutions.
Wind turbines:
Power converters are an essential part of many wind turbines; converting the DC electricity generated into AC that is suitable for feeding onto the electricity grid. The inclusion of Stäubli quick release connectors on the cooling circuits of medium voltage inverters significantly added to the functionality and ease of use of these advanced electrical systems.
SPT connectors are used on demineralised water cooling circuits in the inverters; a compact, lightweight coupling manufactured from high strength aluminium. The valve design provides optimal flow within a minimum outside diameter and being flush-faced no spillage occurs on disconnection.
The ethylene glycol cooling circuits on the rectifiers use RMI connectors, ideal for many applications where quick and easy connection of fluid lines is required.
All cooling circuits were tested to a pressure of 6 bar, twice the operating pressure, no failures of Stäubli connectors have resulted.
Stäubli connectors make the move to liquid cooling of electronics far easier to implement than many expected. Their product specialists are able to provide advice on the precise connector solution and configuration to meet any application. Within the Stäubli Group there is a wealth of knowledge and expertise in electrical connectors at Multi-Contact which combined with Stäubli's traditional strengths on fluid connectors provides the ideal partner when considering liquid cooling of electronics.