CombiTac Program - Modular Connector System
Featured Product from Staubli Corporation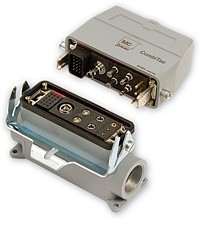 CombiTac modular multi-coupling for fluid and electrical circuits
Our CombiTac multi-coupling system allows you to connect all energy circuits at once. Solutions are built to your specifications by assembling individual dedicated modules based on your applications. Quality construction, in both standard housing and rackable versions, ensures reliable connections.
Applications: Connection of process and maintenance equipment in all industries
Technical specifications
Nominal diameters (mm): from 03 to 08
Diameter of electrical contacts (mm): from 0.6 to 12
Max. working pressure (bar)*: up to 15
Fluids, energy sources
Compressed air and industrial vacuum
Cooling circuits
Electrical power circuits
Signal, thermocouple wire, fiber optic and Ethernet cables, etc.
Construction
Stainless steel
Nickel-plated brass
Various seals available on request
Gold- and silver-plated contacts
Other features
No risk of circuit inversion via a single connection position
High-performance guiding and locking systems