Connection Solutions for Aerospace
Featured Product from Staubli Corporation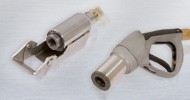 Connection solutions for the aerospace and defense industries
For decades Stäubli has supplied the aerospace industry with couplings and developed specialized connection solutions for the military. We are relied upon to deliver the exceptional safety, lightness and cleanliness these industries demand for a range of applications such as air conditioning, breathing air, compressed air, fuel, hydraulics and thermal management.
Non-spill flush face couplings for thermal management and cooling of electronic components with high resistance to vibration and corrosion.
Quick release couplings for frequent connection and disconnection of air conditioning systems.
Safety quick release couplings for connecting fuel lines and fill tanks (refueling) with high flow rates and no environmental pollution.
Clean break couplings for fluids and gases including a wide variety of seals, plugging and locking variations.
High flow couplings and filters for breathing air circuits ensuring operator safety.