Connectors for Alternative & Renewable Energy
Featured Product from Staubli Corporation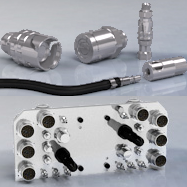 Connectors for Thermal Management, Hydraulics and Electrical Supply
Stäubli has long been relied upon for quick, reliable connection solutions. Stäubli meets the demand with a versatile range of quick couplings and multi-couplings used to connect thermal management materials, hydraulics and electrical supply.
Stäubli's quick coupling systems for wind power stations, for example, are engineered to keep costly assembly and maintenance time to a minimum. In power converter cooling systems, Stäubli's secure non-spill and dry break couplings keep fluid in the lines and prevent leaks in the nacelle. And of course, given the remoteness of the equipment, the emphasis is on reliability.
Hydraulic couplings from Stäubli provide a high degree of resistance to all types of pressure. Whether used in hydraulic pitch systems or for the simple connection of hydraulic pipes, the couplings guarantee optimum flow of fluids and flawless environmental and circuit integrity. Stäubli's multi-coupling systems for automation, used in applications such as cooling systems for rotor blades and docking driverless transport systems, reliably connect a number of different energy and fluid sources simultaneously, without risk of error or impact on flow rate and tightness.