Faster, Heavier, Stronger Robot Arm Tool Changer
Featured Product from Staubli Corporation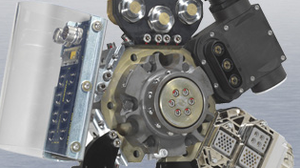 Stäubli's MPS 630 automatic tool changing system for robot arms can handle tools up to 630kgs and withstand the high bending and torsional moments created by fast moving robots, significantly expanding the suitable applications. All the services required by the tool are simultaneously connected and the new, electric or pneumatically activated locking mechanism ensures fail safe security.
The facility to automatically change the tool employed on a robot arm from, for example, a welding gun to a rivet gun or gripper, significantly increases the utilisation of each robot arm and can often eliminate the need for investment in additional robots. Additional operations usually require additional robots; but with the facility to quickly and automatically change the tools on a robot arm, the need for a second or even third robot is eliminated, significantly reducing the capital investment required, improving payback and often reducing the overall cell footprint.
The MPS 630 is the latest addition to the well-established range of high performance tool changing systems available from Stäubli and extends their capability up to the largest welding, riveting and metal clinching tools. Stäubli's tool changers now extend from 32kgs right up to 630kgs tool weight capability and in many applications have performed successfully for over 1 million connection cycles.
The MPS 630 is designed to handle tools up to 630kgs and the locking mechanism can accommodate the high moments (up to 5000Nm) that the latest, fast moving, high payload robots can place on the tool holding equipment. The connectors will withstand the pulsating pressures caused by self piercing guns and metal clinching tools. It is directly mountable onto the robot flange and requires little mounting space. Retention of the tool on the robot arm is ensured by a new design of locking mechanism which can be either pneumatically or electrically actuated. Both systems provide high security; fail safe locking; the design using a series of locking balls to connect across a large diameter. The electric version is specifically designed for applications where the systems installed in a robot cell need to be minimised, such as in the nuclear sector.
All the systems required by the tools are connected automatically, employing the connection guiding and clean break technology used in Stäubli multi-coupling plates; fluid lines (e.g. compressed air, gases and liquids); signal and data transfer connections such as required for actuators, sensors, bus systems or fibre optics and energy connections (e.g. electricity and hydraulics) are automatically connected to the tool and disconnected without any loss of fluid or ingress of air into the circuits. Consumables such as bolts or rivets can also be automatically connected and fed through to the tool. The modular design means that the tool changer can be configured with precisely the type connectors required for each specific application.
Stäubli are unique in having many years of fluid, gas and electrical connector expertise as well as experience of manufacturing robots, they take a broad approach to market requirements by designing tool changers that are suited to all robot makes and types.
Tool changers can be supplied separately or as part of a complete system including docking stations, with the option of tool cooling circuits or inbuilt safety systems.
Dramatic advancements in productivity and operational flexibility can be achieved using automated tool/gripper changers by minimising robot down time and ensuring correct connection of all services each and every time. The level of capital investment required on additional robots is reduced too, by fully utilising all of the capabilities of the installed equipment. Coupled with the improvement in operator safety by eliminating any need to enter the cell to change tools, Stäubli tool changing mechanisms bring major financial and production benefits to an increasingly competitive manufacturing sector.
Typical applications are riveting, resistance spot welding, stud welding, metal clinching and self piercing joining techniques in the automotive sector as well as material handling, gluing and metal transfer requirements across a wide spread of industry. Stäubli engineers, well experienced in connection and tool holding technology, are available to advise on the most appropriate solution for any application.