MCB All-Fluid Flat Face Coupling - Corrosive Envts
Featured Product from Staubli Corporation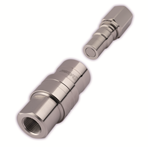 The all-stainless steel MCB range by Stäubli is designed for applications in corrosive environments or those requiring compliance with stringent hygiene standards. The competitive price will be of special interest to manufacturers in the cosmetics, pharmaceutical and agri-food sectors.
Manufactured entirely in stainless steel, the MCB connector offers the highest level of corrosion resistance. It features advanced Stäubli technology and expertise proven over more than 20 years: a Clean Break non-spill anti-pollution flat face profile and automatic connection with a ball-locking mechanism. It therefore guarantees perfect tightness for hydraulic circuits at connection / disconnection, for assured safety of operators and safe work environments.
Robust and durable, the MCB is the ideal coupling for a broad spectrum of applications, for example injection moulding of medical components, filling of tanks in the cosmetics industry, cooling in corrosive environments, sampling of chemical components, etc.
This All-Fluids range is suitable for industries utilising fluid and gas processes subject to the constraints associated with a corrosive environment (chemical sector, coastal areas) or which have to meet certain cleanliness criteria (agri-food, pharmaceutical, cosmetics). The range comes in three diameters (03, 05 and 08 mm), with five types of seal and offers various options such as electropolishing, degreasing prior to assembly and oxygen application. Stäubli Connectors is also able to design other application-specific solutions in consultation with customers.