Quick Coupling Solutions for Fluids and Gases
Featured Product from Staubli Corporation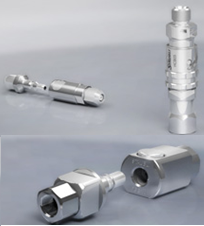 Quick release couplings for fluids and gases
A complete modular system
Stäubli's quick connectors for fluids and gases consist of a full range of products that takes into account the distinct characteristics of the fluid or gas being handled, offering a wide variety of seals, numerous valving and locking technologies, as well as additional options such as key coding and end connections. We guarantee superior performance, tightness and compactness, with just the right products to match your requirements.
Quick couplings and refueling systems for fuel
High resistance to oil, pressure and vibration
Stäubli offers connection solutions for every type of fuel, filling mode and vehicle, including light and heavy duty vehicles and aircraft refueling vehicles, allowing the safe connection of a wide range of circuits. Our products include solutions for NGV and LPG, aircraft auxiliary fueling units, distribution units, collapsible storage tanks and mobile fueling systems.
Quick couplings for filling and draining
A range of couplings, from full flow to dry break
With an emphasis on safe handling and environmental friendliness, Stäubli offers quick coupling systems for filling and draining connections to meet the needs of numerous industries including automotive, motorsports, chemical and more. Featuring high flow rates for quick filling, our couplings are also an excellent choice for applications such as unloading wagons, cisterns and tanks, as well as filling and draining drums.
Quick release couplings for temperature control and thermal management
Stäubli has a range of couplings for temperature control and thermal management, from full flow couplings to dry break quick release, to meet the requirements of all industries. Non-spill flat face design ensures safety for a number of industrial processes, such as cooling of electronics, machinery and molds, whether your applications involve connecting cold or hot water, mineral or synthetic heat transfer oils.