Quick Couplings for Compressed Air
Featured Product from Staubli Corporation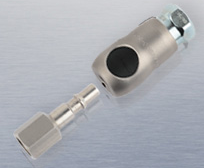 Stäubli has invented active safety.
Now a single movement is all that is needed to guarantee your safety!
Simpler to use, more convenient to handle, even safer and more reliable, the latest in the range of Stäubli quick couplings for compressed air circuits has all these qualities, plus one: innovation !
Simplicity and safety combined in one
Internationally renowned for its innovative and high performance solutions in the field of connection, Stäubli is innovating with new technology dedicated to efficiency and safety.
A single movement by the operator automatically triggers three actions:
closure of the upstream circuit
decompression of the downstream circuit
automatic disconnection of the plug as soon as the pressure falls low enough.
Applied to quick couplings for compressed air circuits, this revolutionary technology contributes actively and reliably to the safety of work stations and personnel in all workshops.
RSI coupling: the new arrival in the circuits
Developed to cover industry's needs in widely differing sectors, the new range of Stäubli safety quick couplings combines the following advantages and achievements:
absolute safety by pressing just once
a rotating button and a 360° swivel version, to suit all requirements and adapt to all work configurations
ergonomical design to follow all your movements
materials that are both light and strong, to reduce musculoskeletal disorders while providing long service life
With the RSI range movements become safer and more efficient.
perfect tightness, a guarantee for controlling costs and energy consumption
faultless conformity to the standards in force
simplified identification to prevent mistakes in installation or use
The new Stäubli couplings are very strong and easy to integrate into your processes. They will play their part in your successes for many years.
Our new range of Stäubli couplings is available now. There is a place waiting for it in every workshop striving for safety and efficiency.