Quick Mold Clamping Systems
Featured Product from Staubli Corporation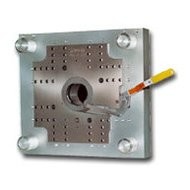 Clamp your molds in seconds. Our quick clamping system adapt to all configurations, on existing or new machines with horizontal or vertical loading.
Easy and quick the manual bayonet system enables your mold clamping with a simple action on a removable operating lever.
The hydraulic system is particularly suited to entirely automated molds changes.
Interative, simple and quick: Clamping by simply pressing a button.