Quick Mould Change Solutions
Featured Product from Staubli Corporation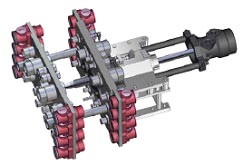 Moulds on injection moulding machines are becoming increasingly complex, frequently requiring multiple connections for temperature control, hydraulics, electrics and data. Multi-connection plates provide a simple and reliable solution to speed up mould changes and eliminate error.
Connecting all the circuits required by a mould takes time and is a potential source of error due to wrong or poor connections; eliminating any scope for error and making all connections quickly and securely in one simple movement is possible using multi-coupling plates. The use of multi-coupling plates often results in the most significant savings in mould changing times.
Stäubli, specialists in connection technology, have in their wide range, couplings that are suitable for connecting all the circuits required on injection moulds. Their MCS multi-coupling plates allow any specific array of connectors to be selected to match the precise requirements of any mould application. The multi-connection can be designed for particular tasks such as temperature control or hydraulics or provide for all the mould connections with automated or manual connection as preferred.
Experienced Stäubli engineers review the requirements of each application to determine the precise specification for the multi-coupling plate. This will take into account the following parameters:
Type of fluid, pressure, temperature
Type of valving (single shut-off, double shut-off or unvalved)
Type of fitting
Non-spill requirements
Method of connection - manual or automatic
Consideration for automatic connection

Misalignment
Driving/Locking mechanism

Electrical connector requirements

Amperage
Voltage
Number of pins

Environmental constraints
Temperature
Frequency of connection/disconnection
Space envelope available
From this data Stäubli will design and manufacture a specific multi-coupling solution using products from their wide range of connectors. This may include modular quick release connectors, dry break couplings preventing ingress of air on connection or spillage on disconnection and electrical connectors for power and signals using fibre optics where appropriate. Guiding and centring components are added to ensure fast secure connection and the robust locking systems only allow connection in one position. If more than one plate is required on a mould then a keying system prevents cross connection.
Centralised connection of all circuits is provided by Staubli's CombiTac range of modular connection systems, providing fast, secure connection of pneumatics, cooling fluids, vacuum, electrical power and signals, data transfer including fibre optics. High performance guiding and locking systems ensure a robust and safe connection.
An example of the benefits to be achieved through the use of multi-coupling plates is at Triumph Motorcycles in Hinckley where mould change times in the injection moulding shop were reduced by 30%.
A target time of 20 minutes was set for the tool change, which with tools weighing up to 8 tonnes required a rapid automatic multi-coupling system. Stäubli multi-coupling plates removed any danger of mis-connection and shaved at least 10 minutes off the mould changeover.
Stäubli, have years of experience in analysing the critical parameters that need to be considered at each stage to optimise mould connections, reducing changeover times to a minimum. Uniquely, as manufacturers of all of the connection and clamping products needed to reduce mould change times, they are ideally placed to objectively analyse requirements and recommend solutions. This expertise and knowledge of coupling solutions is available from the initial design stage onwards to ensure that the installed systems are effective, easy to use and will only require minimum maintenance.
More information: www.staubli.com
Stäubli is an international family owned group founded over 100 years ago in Switzerland employing 4200 world-wide. The Couplings Division manufacturing facilities are located in France, Germany, Italy, Switzerland, USA, Japan and China with offices across Europe, North and South America and the Far East.