Quick Release Couplings for Lab Equipment
Featured Product from Staubli Corporation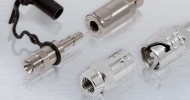 Stäubli RBE series quick disconnects quickly and easily connect and disconnect gas services:
They Provide Safety such as anti-hose whip feature for compressed air and Quality, leak-tight connections.
They meet the technical specifications in terms of material, shut-off technology, mechanical keying, correct back adapters, and many nominal size possibilities.
They provide aesthetics and functionality: The look of the coupling matches the working environment. The users may not have experience with quick couplings and therefore they should be easy to use and hence the simple push-button design of the RBE.
They Comply with your local plumbing code
If you are currently evaluating a flexible laboratory project, please contact us to discuss our solutions for your laboratory gas connection needs.
Couplings for sampling, filling and draining and more...
Compressed air
A range of superior quality quick release couplings, including stainless steel and safety couplings, for compressed air applications.
Sampling
Flush face non-spill quick release couplings for reliably safe sampling, testing points and laboratory analysis.
Breathing air
A range of connection solutions for secure breathing air, clean air and toxic area applications.