Safe, Quick, Easy Manual Clamping - Injection Mold
Featured Product from Staubli Corporation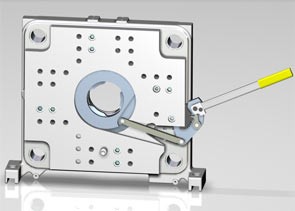 Stäubli, a specialist in mould connection and clamping systems, manufacture systems of each type making them uniquely able to provide advice on selection of the appropriate system for any application.
Mechanical systems, where the mould is held in position by a manual bayonet locking mechanism offer a simple and low cost system that is easy to install and operate. All injection moulding machines up to 250 tonne capacity can be equipped with the Stäubli's QMC 106 clamping system, which requires no electric or hydraulic connections. The system is suitable for moulds up to 2 tonnes and operating temperatures up to 200°C; it accepts all conventional moulds, replacement of the standard centring ring with a Stäubli centring/locking ring is all the modification required.
The bayonet system, lever operated by a removable handle, ensures secure mould clamping by simple and positive safety locking onto the centring ring. The complete working surface of the platens remains available for use making possible clamping of complex shaped moulds that require the entire platen area; the drilling pattern is to Euromap standard but other patterns such as SPI or JIS can be supplied on request. An additional advantage is that mould changing requires access to only one side of the machine.
Installation of the system is also quick and easy and requires no special training for the fitter. On the machine side the set of bayonet plates is a one-off investment; eight standard sizes, as well as bespoke tailored solutions, are available to cover the machine platens. On the mould side only the register rings are required. It is still possible to fix non-adapted moulds in the conventional manner with bolts using the through holes provided, if necessary.
Significant reductions in mould change times have been achieved.
For example, Ricoh, in their Telford moulding shop, reduced mould change times from typically 45 minutes (or even 60 minutes) to just 15 minutes using the Stäubli QMC 106 system. The perfect alignment and elimination of incorrect clamping positioning were additional important benefits.
The Stäubli QMC 106 manual clamping system provides a safe, simple and easy to use, cost effective, quick mould change system. Stäubli product specialists are able to provide advice on all aspects of mould clamping (manual, hydraulic and magnetic), mould connections, mould loading and transfer as well as parts handling and processing. The Stäubli product range provides a single source of effective solutions for all these requirements, ensuring that the most suitable system is selected for any application.