No install hassle with Stearns servomotor brakes
Featured Product from Stearns®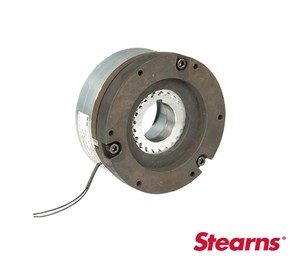 Servomotors from Stearns are compact, spring-set, power-off brakes. They're designed to provide dynamic braking and holding of a driven load. Stearns brakes are engineered with precision to ensure low backlash. Minimalist design has been prioritized, resulting in low numbers of moving parts. Components are constructed with low-inertia materials to ensure fast actuation.
Application examples include: conveyors, small wheeled vehicles (forklifts/lift trucks or AGVs – Automated guided vehicles, overhead doors, gates, and electrical motion control system
Product specs for both of our servomotor brake lines can be found below:
AAB 310 Series:
IEC Frame: 1.79 - 5.0
Torque (lb-in): 8 - 350
Nm: .9 - 39.5
Enclosure: None - Open brake
AAB 311 Series:
IEC Frame: 3.38 - 5.0
Torque (lb-in): 75 - 400
Nm: 8 - 45
Enclosure: None - Open brake
For full product specs and documentation, please visit our associated product link.